Material with WBGT clothing
adjustment value of 0°C
LIVMOA™2000 | Highly breathable standard type

| type5 | for Dust-proof clothing
This model uses highly breathable TORAYMICRON™ on the areas particularly sensitive to heat, which are the face, chest and back.
The highly breathable standard model achieves a balance between countermeasures against heat and humidity and cost.
This product is suitable for the following industries and work types: asbestos removal, urethane spraying, maintenance, general manufacturing, and dirty work.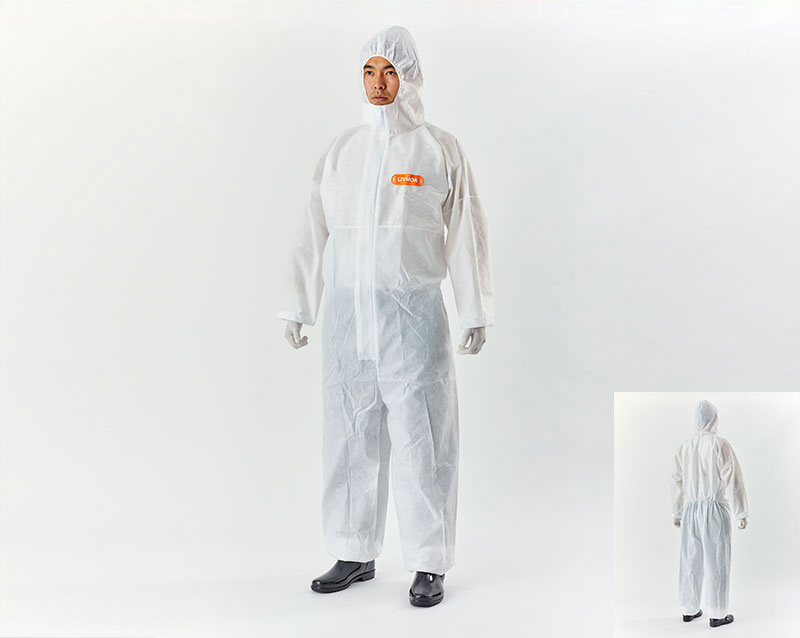 Color: White
This model is an economy type that combines highly breathable TORAYMICRON™, which prevents steaming in clothing and provides superior dustproofing, with SMS.
This product not only provides countermeasures against the summer heat, but also supports comfort and safety in the workplace, which tends to be hot and humid throughout the year. LIVMOA™ 2000 conforms to the requirements of JIS T 8115:2015 Type 5 (sealed protective clothing for floating dust).
TORAYMICRON™ is an electrostatic non-woven microfiber fabric that is also used in air filters, and has excellent dust collection capacity and breathability. In addition to safety, this product reduces the discomfort that has been a problem associated with conventional protective clothing. It enjoys comfortable wearability even during hot weather or in high temperature and high humidity work environments, contributing to improved workability.
TORAYMICRON™ absorbs floating particles
TORAYMICRON™ is a non-woven fabric made from polypropylene microfiber, which gives each fiber powerful electrostatic properties. A strong electric field is created between the inside and outside of the non-woven fabric, instilling it with the ability to catch and absorb everything from submicron particles invisible to the naked eye to large particles of dust.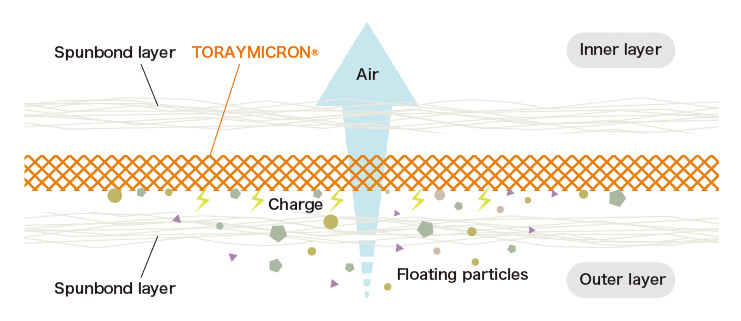 Breathability Experiment Using TORAYMICRON™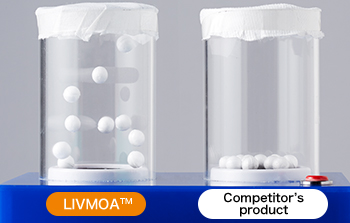 This experiment compared the breathability of the materials by pasting them onto a plastic cylinder and blowing air from below.
The Styrofoam spheres in the cylinder with the LIVMOA™ barrier floated up high, indicating superior breathability of LIVMOA.
Experiment Comparing Material Breathability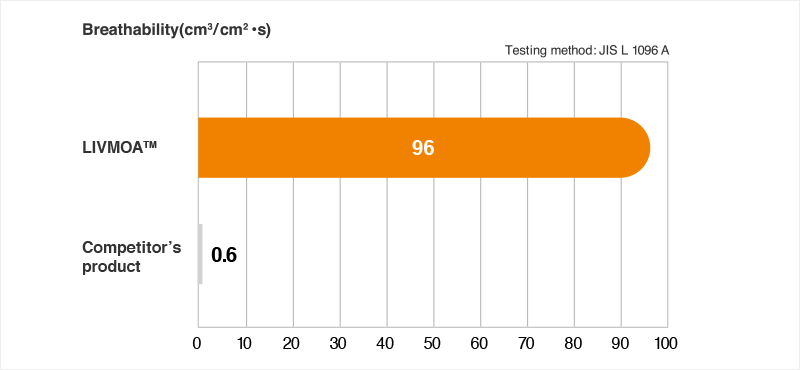 Compared to products of other manufacturers, LIVMOA™ 2000 has a maximum temperature increase of 2.1°C inside the clothing and a maximum relative humidity increase of 20% Rh, which indicate a comfort level near that of LIVMOA™ 3000.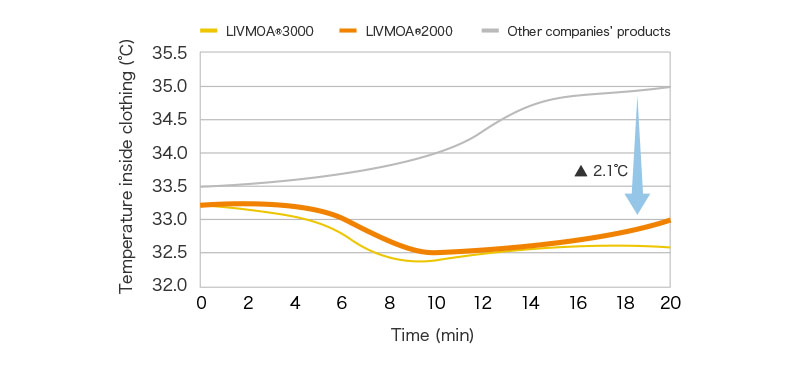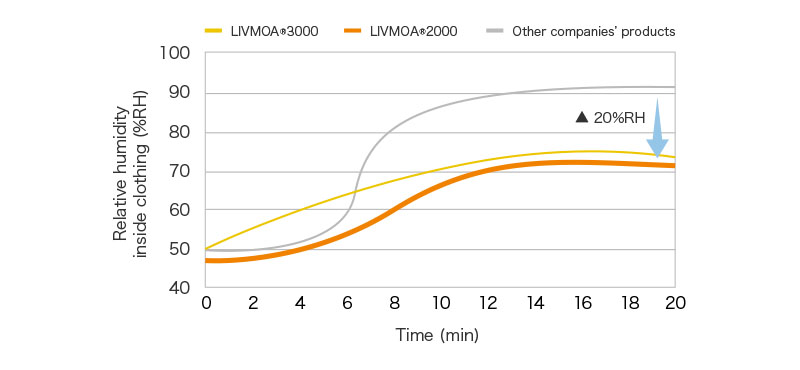 30°C50%RH atmosphere (no wind) Temperature and humidity inside clothing in the back area after exercising for 20 minutes
3
General physical properties
Physical property
LIVMOA2000
Testing Method
Highly breathable
SMS
SMS
Material
Tensile strength
Class
2
2
JIS L 1096
Tearing strength
Class
3
2
JIS L 1913
Piercing strength
Class
1
1
JIS T 8115
Abrasion resistance
Class
≥ 1
≥ 1
JIS T 8115
Bending strength
Class
≥ 1
≥ 1
JIS T 8115
Air permeability
cm3/cm2/s
96
14
JIS L 1096
Clothing
Seam strength
Class
4
2
JIS T 8115
Floating dust permeability
Individual leakage rate
Pass
JIS T 8124-1
Total leakage rate
Pass
Class = JIS T 8115 Chemical protective clothing classification
Seller
Sunrich Mode Inc. LIVMOA Division
5th Floor Seki Building, 1-7-1 Iwamoto-cho, Chiyoda-ku, Tokyo
101-0032, Japan
TEL: 03-5821-3391
Notes
1. Disposal
LIVMOA™ 2000 should be disposed of as industrial waste or incinerated. However, please keep in mind that the contamination of the garment may limit the disposal method. Please follow all laws, standards and guidelines of your country and local government.
2. Cautions
Garment specifications and appearances are subject to change without notice.
All matters, technical data and recommendations listed on this site are based on our own reliable experiments, but we do not guarantee their accuracy or completeness. Toray makes no guarantees for and disavows all responsibility or obligation for any consequences resulting from this information. Prior to use, the user must determine whether the product is appropriate for the intended use and assume all responsibility for any associated dangers.
The obligations of the seller and the manufacturer are limited to replacing a product that has been proven to be defective. No other responsibilities are assumed. Toray is not responsible for any matters not described.
3. Instruction manual
Please read and understand the instruction manual included with the product beforehand and use the product in accordance with these instructions.
4. Other
Due to printing, the color of the actual product may differ slightly from what appears in the catalog.
LIVMOA™ chemical protection clothing is a limited-use product. It cannot be washed.