Material with WBGT clothing
adjustment value of 0°C
Water pressure-resistant type
LIVMOA™4500AS
 (Has undergone anti-static treatment; seams are taped)
LIVMOA™4000AS
 (Has undergone anti-static treatment)
LIVMOA™4000
| for Dust-proof clothing |
4500AS:type 4.5.6
4000,4000AS:type 5.6
This new type of protective clothing is breathable, offers dust protection through Toray's proprietary SMS formula*1, and also has water pressure-resistance of up to 1,000 mmH2O*2.
4500AS conforms to JIS T 8115 types 4, 5 and 6, and 4000 and 4000AS conform to types 5 and 6.
This product be used at work sites where water pressure resistance is required*3, such as waste processing facilities, or for doing routine maintenance of manufacturing equipment.
*1 Multi-layered non-woven fabric comprising layers of melt-blown non-woven fabric sandwiched between layers of spunbond non-woven fabric
*2 This product does not have seam tape covering the seams. The seams can withstand water pressure of up to 1,000 mmH2O.
*3 For protective clothing used for protecting against dioxins at waste processing facilities, it is the responsibility of the user to select a product that is suitable for their working conditions.
This model offers dust protection and water resistance while also being breathable, reducing humidity inside the clothing and
helping to improve comfort.
The material is a three-layer structure consisting of a highly dense special water-resistant layer sandwiched between layers of highly durable spunbond non-woven fabric.
In addition to dust protection, it has a water pressure resistance of 1,000 mmH2O, which is difficult to achieve with existing SMS manufacturing methods. It also has breathability of approximately 10cm3/cm2/s.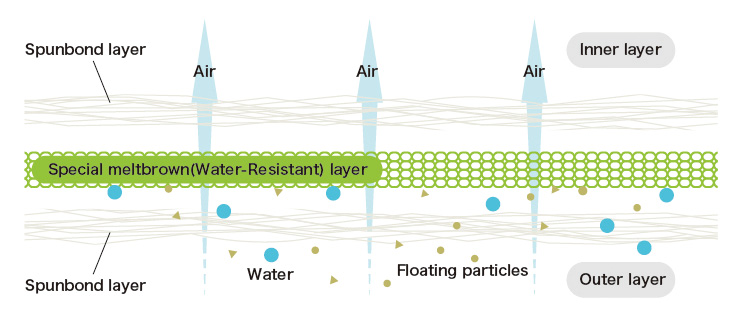 2
General physical properties
Unit
Type 5
Standard
LIVMOA
4000
Bending strength
JIS T 8115
Appendix JA
Class
≥ 1
≥ 1
Tearing strength
JIS L 1913
Trapezoid Method
Class
≥ 1
2
Piercing strength
JIS T 8015
Class
≥ 1
1
Seam strength
JIS L 1096
Grab Method
Class
≥ 1
3
Abrasion resistance
JIS L1096
Martindale Method
Class
≥ 1
1
Floating dust
permeability
JIS T 8124-1
-
-
Pass
Water pressure resistance
JIS L1092
A-method (low-pressure method)
mmH2O
-
≥ 1000
Air permeability
JIS L 1096
Frazier Method
cm3/cm2/s
-
8
Seller
Sunrich Mode Inc. LIVMOA Division
5th Floor Seki Building, 1-7-1 Iwamoto-cho, Chiyoda-ku, Tokyo
101-0032, Japan
TEL: 03-5821-3391
Notes
1. Disposal
LIVMOA™ 4000 should be disposed of as industrial waste or incinerated. However, please keep in mind that the contamination of the garment may limit the disposal method. Please follow all laws, standards and guidelines of your country and local government.
2. Cautions
Garment specifications and appearances are subject to change without notice.
All matters, technical data and recommendations listed on this site are based on our own reliable experiments, but we do not guarantee their accuracy or completeness. Toray makes no guarantees for and disavows all responsibility or obligation for any consequences resulting from this information. Prior to use, the user must determine whether the product is appropriate for the intended use and assume all responsibility for any associated dangers.
The obligations of the seller and the manufacturer are limited to replacing a product that has been proven to be defective. No other responsibilities are assumed. Toray is not responsible for any matters not described.
3. Instruction manual
Please read and understand the instruction manual included with the product beforehand and use the product in accordance with these instructions.
4. Other
Due to printing, the color of the actual product may differ slightly from what appears in the catalog.
LIVMOA™ chemical protection clothing is a limited-use product. It cannot be washed.