Material with WBGT clothing
adjustment value of 0°C
LIVMOA™3000 | Highly breathable high-spec type

| type5 | for Dust-proof clothing
Ideal for work aiming to protect from dust and preventing dirt.
Its comfort is highly appreciated, especially in environments where workers tend to perspire.
Asbestos removal, urethane spraying, maintenance, general manufacturing and other dirty jobs? We've got you covered.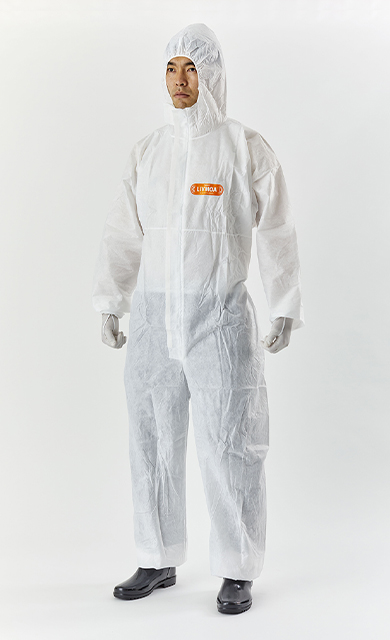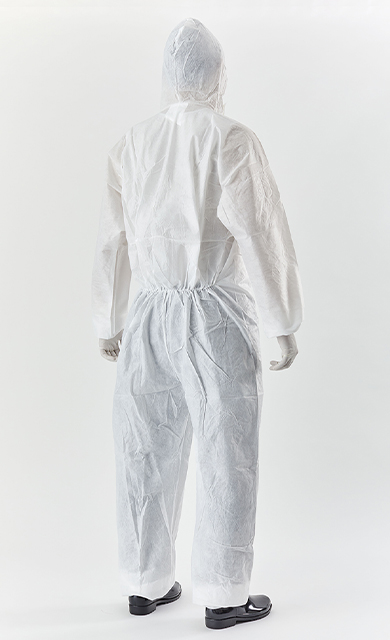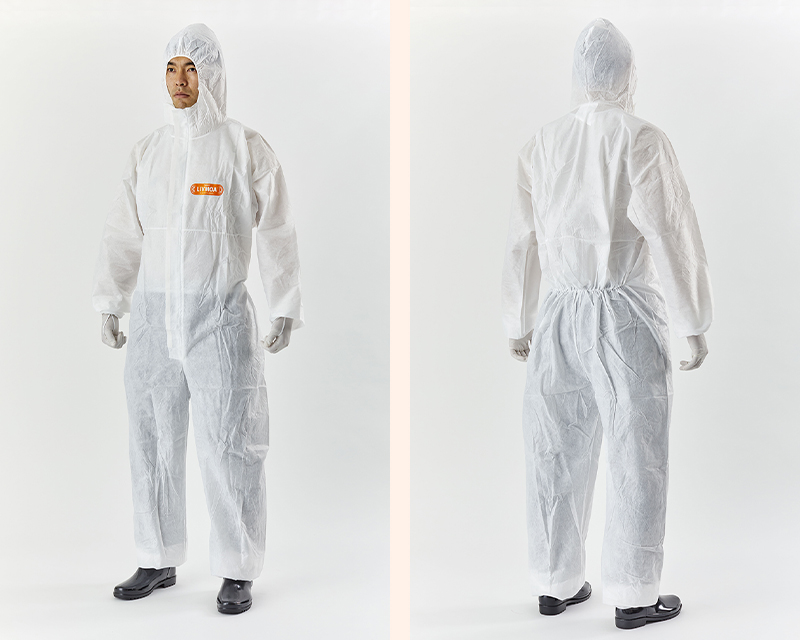 Its high level of breathability prevents humidity buildup while providing excellent dust-resistance.
The LIVMOA™ 3000 series features a multilayered material comprised of charged non-woven TORAYMICRON™ fabric sandwiched between outer layers of spunbond fabrics. The LIVMOA™ 3000 breathable type chemical protective clothing is sealed and prevents contamination by floating particles in accordance with JIS T 8115:2015, type 5.
TORAYMICRON™ is a charged non-woven fabric also used in air filters. It has excellent particle-collecting capabilities plus breathability. It is a safe material that reduces worker discomfort, which has been an ongoing issue with conventional protective clothing. TORAYMICRON™ facilitates increased productivity by keeping workers feeling comfortable even in hot or humid environments.
1
Breathability and Protection From Dust
TORAYMICRON™ absorbs floating particles
TORAYMICRON™ is a non-woven fabric made from polypropylene microfiber, which gives each fiber powerful electrostatic properties. A strong electric field is created between the inside and outside of the non-woven fabric, instilling it with the ability to catch and absorb everything from submicron particles invisible to the naked eye to large particles of dust.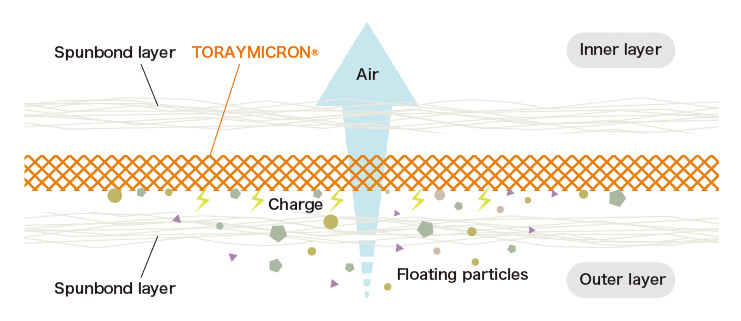 Multilayered structured material that uses Toray's TORAYMICRON™ provides excellent breathability!
Breathability Experiment Using TORAYMICRON™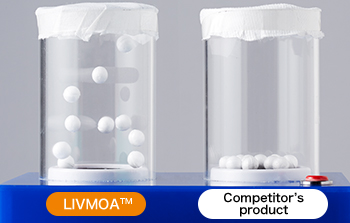 This experiment compared the breathability of the materials by pasting them onto a plastic cylinder and blowing air from below.
The Styrofoam spheres in the cylinder with the LIVMOA™ barrier floated up high, indicating superior breathability of LIVMOA.
Experiment Comparing Material Breathability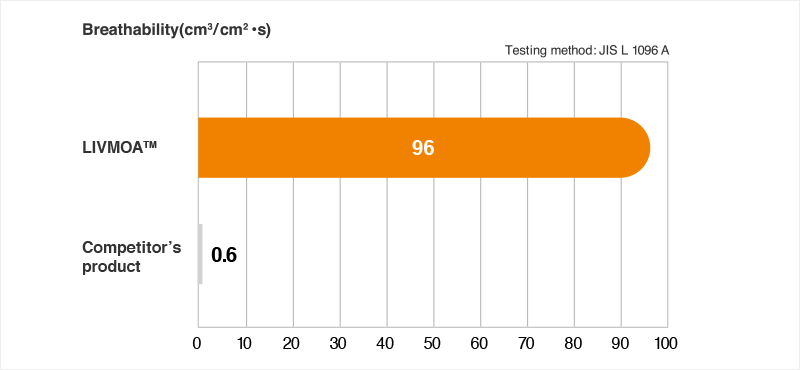 Experiment Comparing Temperature Increase Inside the Clothing
LIVMOA realizes a soft, smooth and silky feel. It supports comfortable movement in work environments that tend to make workers perspire.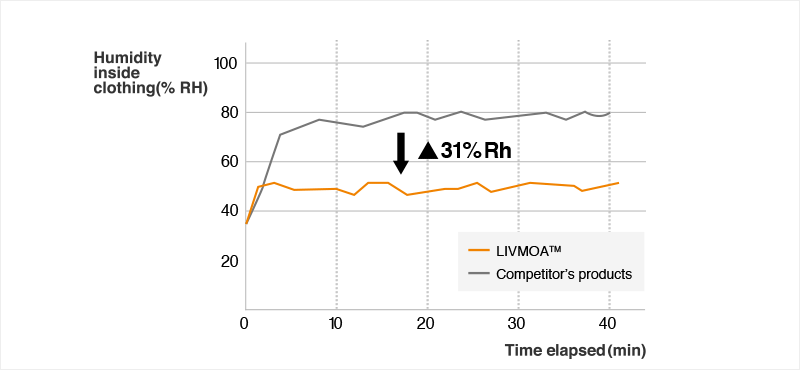 Indoor environment: 30°C/50% RH
Evaluation conditions (internal method)
1. Wear
Test subjects wore general work pants and a T-shirt. Protective equipment: boots, rubber gloves and dust-proof full-face mask. Test subjects put on the clothing and equipment indoors (20°C × 50% RH).
2. Environmental conditions 30°C x 50% RH, in a room with constant temperature and humidity, using a fan (wind speed 4m/s).
3. Time schedule: Standing for 40 minutes.

Evaluation results
1. Amount of sweat (the change in mass of the T-shirt following the test)
Other company's product: 22g; LIVMOA™: 8g Humidity inside clothing: A reduction of up to 31% RH

* These evaluated properties and data points are measured values. There may be differences in significance and in individuals, so this performance is not guaranteed for all fabrics and garments.
Keep workers safe with durable clothing!
Our products exhibit excellent strength against strains caused by the type of movements that occur across many kinds of work, such as stretching or squatting. This durability supports worker safety.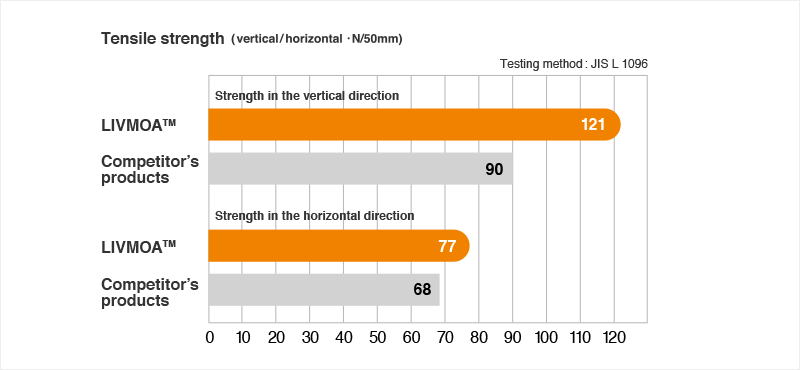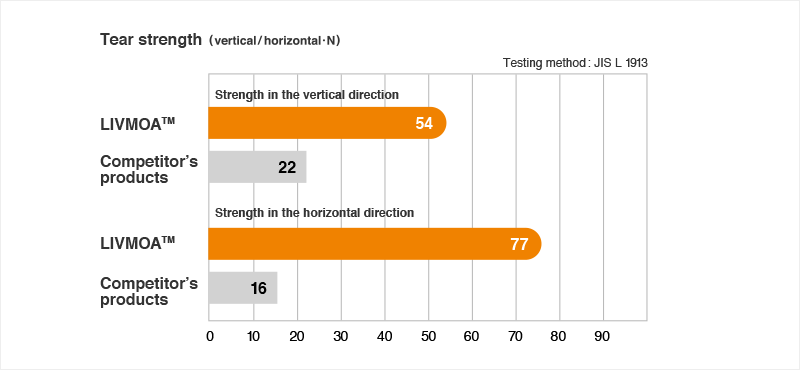 Move smoothly and comfortably—no more clothing sticking to your skin because of sweat!
We've developed a soft fabric that won't stick. Our products ensure comfortable movement in the type of workplaces that often lead to sweating.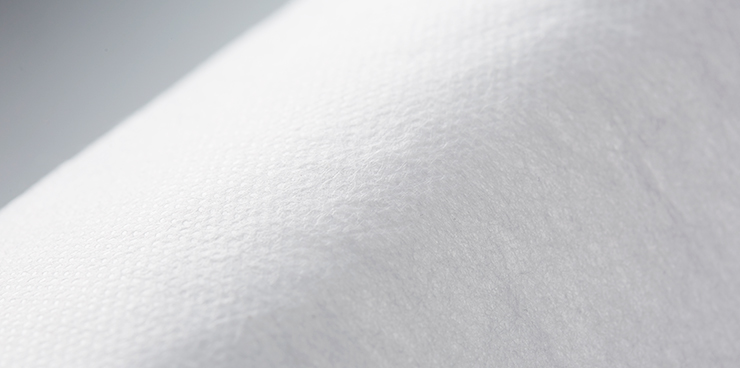 4
General physical properties
Physical property
Value
Testing Method
Material
Tensile strength
Class
2
JIS L 1096
Tearing strength
Class
3
JIS L 1913
Piercing strength
Class
1
JIS T 8115
Abrasion resistance
Class
≥ 1
JIS T 8115
Bending strength
Class
≥ 1
JIS T 8115
Air permeability
cm3/cm2/s
96
JIS L 1096
Clothing
Seam strength
Class
4
JIS T 8115
Floating dust permeability
Individual leakage rate
Pass
JIS T 8124-1
Total leakage rate
Pass
Seller
Sunrich Mode Inc. LIVMOA Division
5th Floor Seki Building, 1-7-1 Iwamoto-cho, Chiyoda-ku, Tokyo
101-0032, Japan
TEL: 03-5821-3391
Notes
1. Disposal
LIVMOA™ 3000 should be disposed of as industrial waste or incinerated. However, please keep in mind that the contamination of the garment may limit the disposal method. Please follow all laws, standards and guidelines of your country and local government.
2. Cautions
Garment specifications and appearances are subject to change without notice.
All matters, technical data and recommendations listed on this site are based on our own reliable experiments, but we do not guarantee their accuracy or completeness. Toray makes no guarantees for and disavows all responsibility or obligation for any consequences resulting from this information. Prior to use, the user must determine whether the product is appropriate for the intended use and assume all responsibility for any associated dangers.
The obligations of the seller and the manufacturer are limited to replacing a product that has been proven to be defective. No other responsibilities are assumed. Toray is not responsible for any matters not described.
3. Instruction manual
Please read and understand the instruction manual included with the product beforehand and use the product in accordance with these instructions.
4. Other
Due to printing, the color of the actual product may differ slightly from what appears in the catalog.
LIVMOA™ chemical protection clothing is a limited-use product. It cannot be washed.